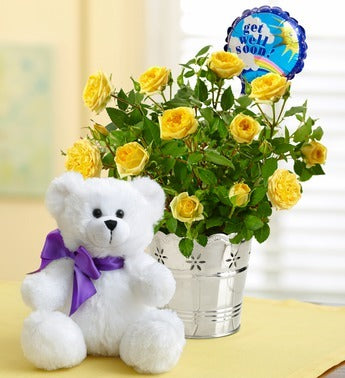 How To Pick Get-Well Soon Flowers For Hospital Patients?
Sending flowers to someone who is not well goes a long way in showing that you care. When you send get-well-soon flowers to the one who is hospitalised, you send hopes, love and care and wish a speedy recovery to them.  However, with a vast range of flower collections, it can be a bit confusing to choose the right one. You can work with a florist shop near you to deliver the flower bouquet on same-day flower delivery. We've compiled the appropriate get-well-soon flowers ideal gift for your lovely people who are sick, hospitals, nursing homes, and churches and much more. Let's check them out.
Gerberas
When it comes to allergy-free flowers, there is nothing more cheerful than the sight of colourful & delicate gerberas. They have a mild aroma, strikingly bold & vibrant colours like red, orange, yellow, white and red and can be the perfect get-well-soon flower bunch for your loved one. Whether you would like to go extravagant or stay minimal, ensure to tell the florist and send flowers to the hospital.
Roses
Pink & white roses are ideal for sending someone to the hospital. They have a distinctive smell & magically brighten their day, happy and confident. Instead of choosing a glass vase or plastic vase, go for eco-friendly paper wraps to cover the roses and send it to them with same-day flower delivery.
Spider Plants
As the hospital atmosphere is already sickening, sending a thoughtful & useful gift will keep them healthy and joyful. It spreads oxygen and serves beautifully as an indoor houseplant too. So, aside from gorgeous flowers, you can go for miniature lush greens too.
Daisies
Daisies are bright, radiant and cheerful flowers just like gerberas & come in vivid colours. These springtime beauties are great get-well-soon flowers & they look more elegantly when mixed with gerberas, roses and iris in a flower arrangement.
Hydrangeas
They are quirky, mild and gentle. When adorned with roses, peonies or daffodils, tulips, hyacinth, dahlias, these are a bunch to gift your dear one who is not well.  You can also play with seasonal flowers and ensure to calm the senses.
If you're looking for gorgeous flower arrangements & flower bouquets across Parkville with same-day flower delivery, call With Flowers on 0393477699 today.